Biodegradable compostable bags have gained popularity as a sustainable solution for waste management. In this article, we will explore whether wet kitchen waste can be disposed of using biodegradable compostable bags. For B2B customers seeking environmentally friendly waste disposal options, understanding the characteristics and proper usage of these bags is essential. Let's delve into the details.
Are Compostable Bags the Same as Biodegradable?
Compostable bags and biodegradable bags are similar but not exactly the same. Both types of bags are designed to break down naturally over time. However, compostable bags have specific properties that make them suitable for composting environments, whereas biodegradable bags may break down under different conditions.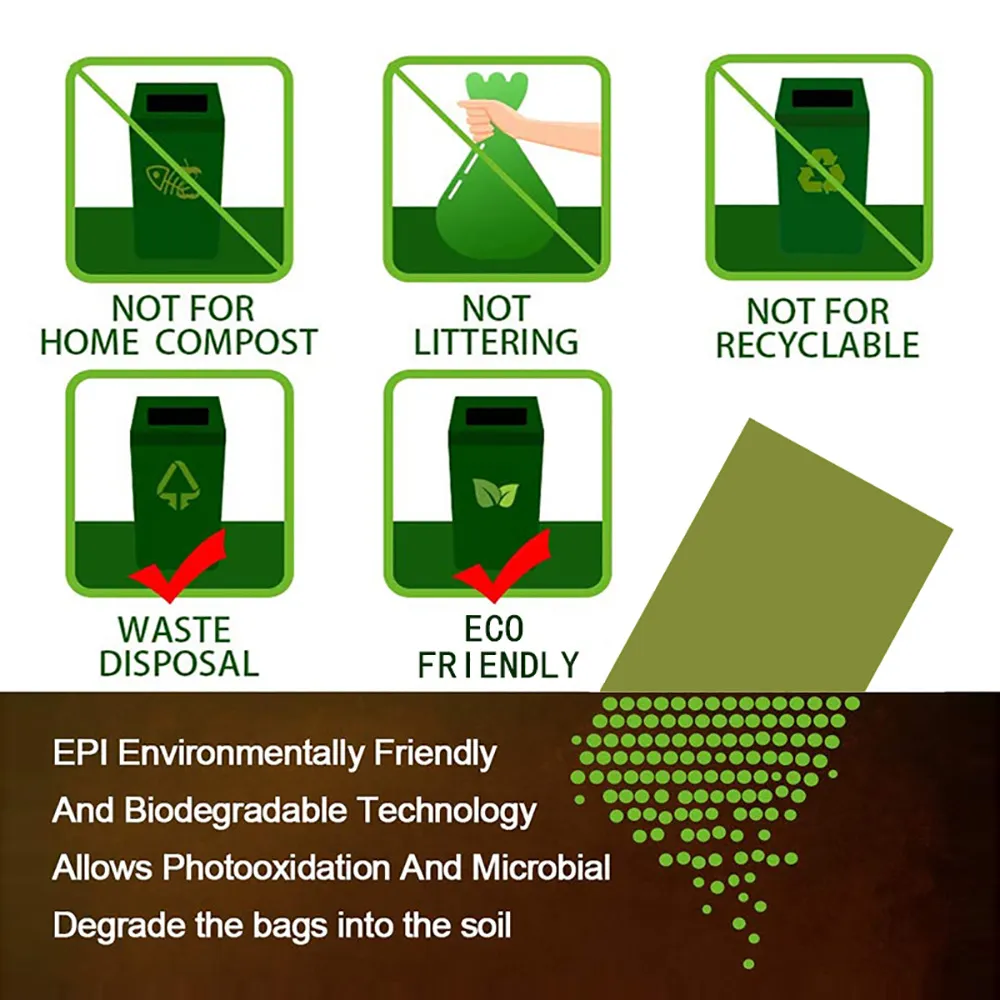 What Is the Difference Between Biodegradable and Compostable?
The key difference between biodegradable and compostable lies in the specific conditions required for the breakdown process. Biodegradable materials can break down into natural components over time, but the duration and end-products may vary. Compostable materials, on the other hand, are specifically designed to break down into nutrient-rich compost in a composting environment. Compostable bags adhere to strict standards and certifications to ensure their suitability for composting.
Can You Put Biodegradable Bags in Compost?
Not all biodegradable bags can be composted. It depends on the composition of the bag and whether it meets the requirements for compostability. Some biodegradable bags may take longer to break down or may leave behind residues that are not suitable for composting. It is crucial to look for bags specifically labeled as "compostable" and ensure they meet recognized composting standards, such as the ASTM D6400 or EN 13432 certifications.
Table: Comparison of Biodegradable and Compostable Bags
| Features | Biodegradable Bags | Compostable Bags |
| --- | --- | --- |
| Breakdown Process | Breaks down over time under specific conditions | Breaks down into nutrient-rich compost |
| Suitable for Composting | Depends on bag composition and certification | Specifically designed for composting environments |
| Certifications | Varies | ASTM D6400, EN 13432, BPI, OK Compost |
| Disposal Options | Industrial composting, proper waste management | Industrial composting, home composting |
| Environmental Impact | Low | Low |
Proper Usage of Biodegradable Compostable Bags for Wet Kitchen Waste
When it comes to disposing of wet kitchen waste, it is important to follow proper guidelines:
Choose Certified Compostable Bags: Select biodegradable compostable bags that are specifically labeled as "compostable" and certified to recognized standards. This ensures their suitability for composting.
Line Your Compost Bin: Use the compostable bags to line your compost bin or container. They will help contain the wet kitchen waste and make it easier to handle during the composting process.
Avoid Excessive Moisture: While compostable bags are designed to handle wet waste, it is still important to avoid excessive moisture accumulation. Drain excess liquids from food waste before placing it in the compost bin.
Compost Properly: Follow proper composting practices, including maintaining the right balance of green (nitrogen-rich) and brown (carbon-rich) materials, turning the compost regularly, and providing adequate aeration.
Conclusion
Biodegradable compostable bags provide a sustainable option for waste disposal, including wet kitchen waste. While not all biodegradable bags are suitable for composting, certified compostable bags meet specific standards and can be safely used for composting wet kitchen waste. When choosing compostable bags, ensure they are labeled as "compostable" and meet recognized certifications. By following proper guidelines and composting practices, you can effectively manage wet kitchen waste while contributing to a greener environment.
Shenzhen YongLianTai Plastic Bag Co., Ltd. offers a range of high-quality biodegradable compostable bags that meet composting standards. Visit our product page to explore our selection and contact us at sales@yltpacking.com for more information on our sustainable packaging solutions.