| No. | H Tag | Outline |
| --- | --- | --- |
| 1 | H1 | Custom Print Compostable Mylar Bags For Your Unique Brand |
| 2 | H2 | The Importance of Sustainable Packaging |
| 3 | H3 | The Environmental Impact of Traditional Mylar Bags |
| 4 | H3 | The Benefits of Switching to Compostable Packaging |
| 5 | H2 | What are Compostable Mylar Bags? |
| 6 | H3 | The Composition and Features of Compostable Mylar Bags |
| 7 | H3 | Why Choose Compostable Mylar Bags |
| 8 | H2 | Custom Print Your Compostable Mylar Bags |
| 9 | H3 | Enhance Your Brand with Custom Printed Bags |
| 10 | H3 | The Custom Printing Process at YLT |
| 11 | H2 | Are Mylar Bags Compostable? |
| 12 | H2 | Are Compostable Bags Really Compostable? |
| 13 | H2 | Choose YLT for Your Custom Printed Compostable Mylar Bags |
| 14 | H2 | Conclusion |
| 15 | H2 | FAQs |
---
Custom Print Compostable Mylar Bags For Your Unique Brand
1. The Importance of Sustainable Packaging
As global environmental concerns continue to grow, so too does the need for sustainable solutions in every sector, including packaging. Packaging plays a critical role in our daily lives, protecting and preserving products, while also acting as a key marketing tool for brands.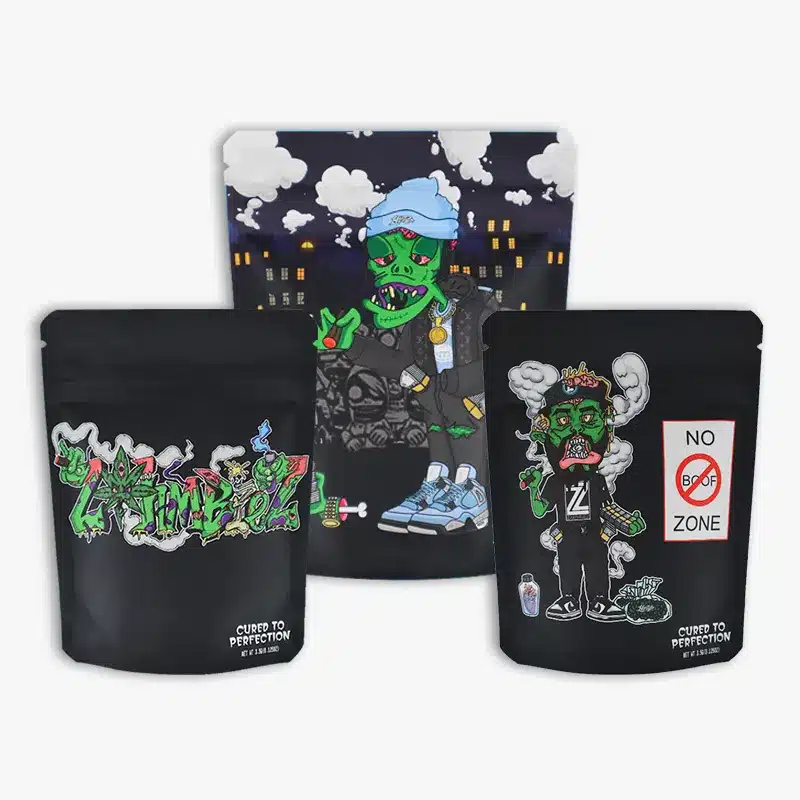 1.1 The Environmental Impact of Traditional Mylar Bags
Traditional mylar bags, while popular due to their durability and excellent barrier properties, contribute to the growing problem of plastic waste. This is because typical mylar bags are made from petroleum-based materials, making them non-biodegradable and challenging to recycle.
1.2 The Benefits of Switching to Compostable Packaging
Switching to compostable packaging offers businesses an opportunity to reduce their environmental footprint, while also attracting eco-conscious customers.
2.1 The Composition and Features of Compostable Mylar Bags
Compostable Mylar Bags are a revolutionary type of packaging made from plant-based materials. They maintain the high barrier properties of traditional mylar bags, ensuring the freshness and integrity of the products inside, while also being capable of breaking down in a composting environment.
2.2 Why Choose Compostable Mylar Bags
Choosing compostable mylar bags means choosing a solution that aligns with global sustainability goals without compromising product protection or quality.
3. Custom Print Your Compostable Mylar Bags
3.1 Enhance Your Brand with Custom Printed Bags
Custom printing your compostable mylar bags can greatly enhance your brand visibility and perception. It not only allows for creative expression and unique branding opportunities, but it also signals your company's commitment to environmental sustainability.
3.2 The Custom Printing Process at YLT
At YLT, we offer a comprehensive custom printing service, ensuring your compostable mylar bags perfectly represent your unique brand.
4. Are Mylar Bags Compostable?
While traditional mylar bags are not compostable, our revolutionary compostable mylar bags are designed to break down under compostable conditions, making them a greener alternative.
5. Are Compostable Bags Really Compostable?
Yes, compostable bags, including our compostable mylar bags, are designed to break down under specific composting conditions. They are certified to meet international composting standards, ensuring they break down into harmless organic matter that can nourish the soil.
6. Choose YLT for Your Custom Printed Compostable Mylar Bags
As a leading manufacturer in the packaging industry, YLT offers high-quality compostable mylar bags and a superior custom printing service. Let us help you make the switch to sustainable packaging and enhance your brand.
7. Conclusion
The shift towards sustainable packaging is no longer an option but a necessity. By choosing compostable mylar bags for your products, you contribute to a more sustainable future while also elevating your brand.
FAQs
Q1: Can compostable mylar bags keep my product fresh?
A1: Yes, absolutely! Compostable Mylar bags have excellent barrier properties, similar to traditional Mylar bags. They are designed to keep air, moisture, and light away from the product, maintaining freshness and quality.
Q2: How can I customize my compostable mylar bags?
A2: At YLT, we provide a comprehensive custom printing service. You can tailor the design, size, and even the shape of your compostable Mylar bags to match your brand identity. Simply provide us with your desired specifications and design elements, and we will take care of the rest.
Q3: Can compostable mylar bags be used for any product type?
A3: Compostable Mylar bags are highly versatile and suitable for a wide range of products, including food items like coffee, tea, dried fruits, nuts, and more. They can also be used for non-food items like cosmetics or small merchandise. Their excellent barrier properties make them ideal for products that require protection from moisture, light, and air.
Q4: How long does it take for compostable mylar bags to decompose?
A4: The decomposition time for compostable mylar bags can vary based on composting conditions. In a proper industrial composting facility, they can break down into harmless organic matter in as little as 90 days. Home composting may take longer due to variations in temperature and microbial activity.