Introduction to Dry Fruit Packing Pouches
The Security Aspect: Why It Matters
Sustainability: The Need of the Hour
Stylish Packaging: Beyond Just Looks
ShenZhen YongLianTai(YLTpacking): The Expertise Behind the Excellence
Customization: Tailoring to Brand Needs
The Role of Branding in Packaging
Our Comprehensive Design Process
Production Excellence and Quality Assurance
Logistics: Ensuring Timely Deliveries
Why YLTpacking is the Preferred Choice
Addressing Industry Concerns and Challenges
The Evolution and Future of Dry Fruit Packing Pouches
Words from Our Esteemed Clients
How to Collaborate with Us
1. Introduction to Dry Fruit Packing Pouches
Dry fruits, with their myriad health benefits and delightful flavors, deserve packaging that mirrors their premium quality. Enter the world of Dry Fruit Packing Pouch, a harmonious blend of security, sustainability, and style.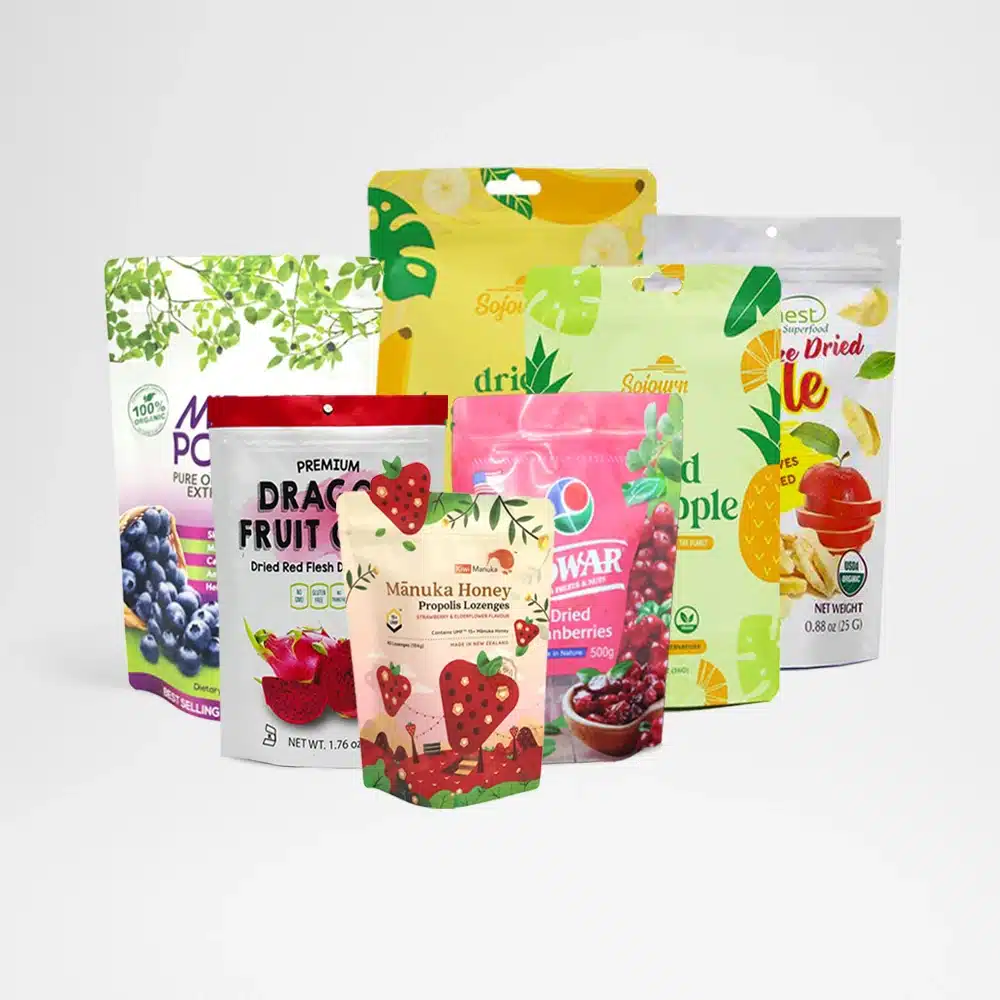 2. The Security Aspect: Why It Matters
Dry fruits are susceptible to external factors like moisture, air, and light. Secure packaging ensures these delicacies are shielded from such elements, preserving their freshness and nutritional value.
3. Sustainability: The Need of the Hour
In today's eco-conscious world, sustainable packaging isn't just a choice; it's a responsibility. We, at YLTpacking, prioritize eco-friendly materials and processes, ensuring our pouches are as kind to the environment as they are to the dry fruits inside.
4. Stylish Packaging: Beyond Just Looks
A visually appealing pouch does more than just attract eyes; it tells a story, communicates brand values, and promises quality. Our designs, while being aesthetically pleasing, also resonate with the brand's ethos and the consumers' expectations.
5. ShenZhen YongLianTai(YLTpacking): The Expertise Behind the Excellence
Established in 2005, YLTpacking has been at the forefront of packaging innovation. Our expertise in creating custom solutions ensures that every pouch we produce is a testament to our commitment to excellence.
6. Customization: Tailoring to Brand Needs
No two brands are the same, and neither should their packaging be. Our one-stop service encompasses branding, design, production, logistics, and after-sales support, ensuring a tailored solution for every client.
7. The Role of Branding in Packaging
Branding is more than just a logo or a color scheme; it's an experience, a promise. Effective packaging amplifies this experience, creating a lasting bond between the consumer and the brand. At YLTpacking, we ensure that every pouch not only protects its contents but also communicates the brand's essence.
8. Our Comprehensive Design Process
Our design journey at YLTpacking is a collaborative endeavor. We immerse ourselves in understanding the brand's identity, its target audience, and market positioning. This in-depth analysis ensures that the final pouch design is both functional and resonant with the intended demographic.
9. Production Excellence and Quality Assurance
Quality is at the heart of everything we do. Our advanced production facilities guarantee that each Dry Fruit Packing Pouch meets stringent standards. From material sourcing to the final print, every stage undergoes meticulous quality checks, ensuring unparalleled excellence.
10. Logistics: Ensuring Timely Deliveries
A great product deserves timely delivery. Our integrated logistics solutions ensure that your custom pouches reach their destination promptly. And our commitment doesn't end with delivery; our after-sales support ensures a seamless experience for our clients.
11. Why YLTpacking is the Preferred Choice
With years of experience and a reputation for excellence, YLTpacking stands out in the packaging industry. Our holistic approach, from design to delivery, combined with our emphasis on quality and customization, makes us the go-to choice for brands worldwide.
12. Addressing Industry Concerns and Challenges
The packaging landscape is ever-evolving, with new challenges emerging regularly. Be it sustainability concerns, changing consumer preferences, or technological advancements, at YLTpacking, we're always a step ahead, ensuring our clients remain at the forefront of the industry.
13. The Evolution and Future of Dry Fruit Packing Pouches
As market dynamics shift and consumer preferences evolve, the world of dry fruit packing pouches is set for exciting times. With a focus on sustainable materials, innovative designs, and interactive packaging, YLTpacking is geared up to lead this evolution.
14. Words from Our Esteemed Clients
Our journey is enriched by the success stories of our clients:
"Our collaboration with YLTpacking redefined our product presentation. Their commitment to quality and innovation is truly commendable." – Adamy
"YLTpacking's holistic approach, from design ideation to delivery, has been a game-changer for us. They truly resonate with our brand's ethos." – one of our customer
15. How to Collaborate with Us
Elevate your brand with our bespoke packaging solutions. Reach out to ShenZhen YongLianTai(YLTpacking) Plastic Bag Co.,Ltd for a personalized consultation. Let's craft success stories together. Connect with us at sales@yltpacking.com.
Conclusion
In the intricate realm of dry fruit packaging, the trifecta of security, sustainability, and style is paramount. With ShenZhen YongLianTai(YLTpacking) as your partner, you're not just investing in a pouch; you're embracing a legacy of excellence.
FAQs
What materials are used in YLTpacking's dry fruit pouches?

We utilize a diverse range of materials, each selected for its protective properties and environmental impact.

How does YLTpacking champion sustainability?

Sustainability is integral to our ethos. We prioritize eco-friendly materials and processes, ensuring minimal environmental impact.

Can I request a prototype before a bulk order?

Absolutely! We're confident in our offerings and are always ready to provide samples for your evaluation.

What's the typical lead time for production?

While timelines can vary based on design intricacies and order volume, we always endeavor to meet client timelines without compromising on quality.

Does YLTpacking cater to other product packaging needs?

Yes, our expertise spans a wide array of products. Discuss your specific requirements with us for tailored solutions.

How can I initiate a collaboration with YLTpacking?

Starting is simple. Drop us an email at sales@yltpacking.com, and our team will guide you through the next steps.