Table of Contents
Introduction
The Rise of Dry Fruits in Modern Diets
Benefits of Using a Dry Fruit Pouch
Features to Look For
Material Matters
Customization: Make It Yours
How to Seal and Store
Tips for Retailers
Ideal Situations for Using Dry Fruit Pouches
Environmental Considerations
Consumer Preferences
Health and Safety Guidelines
Frequently Asked Questions
A Look at the Market Trends
Conclusion
1. Introduction
Dry fruits have become increasingly popular, and what better way to store and carry them than in a Dry Fruit Pouch? This article explores why these pouches are a win-win for both consumers and retailers.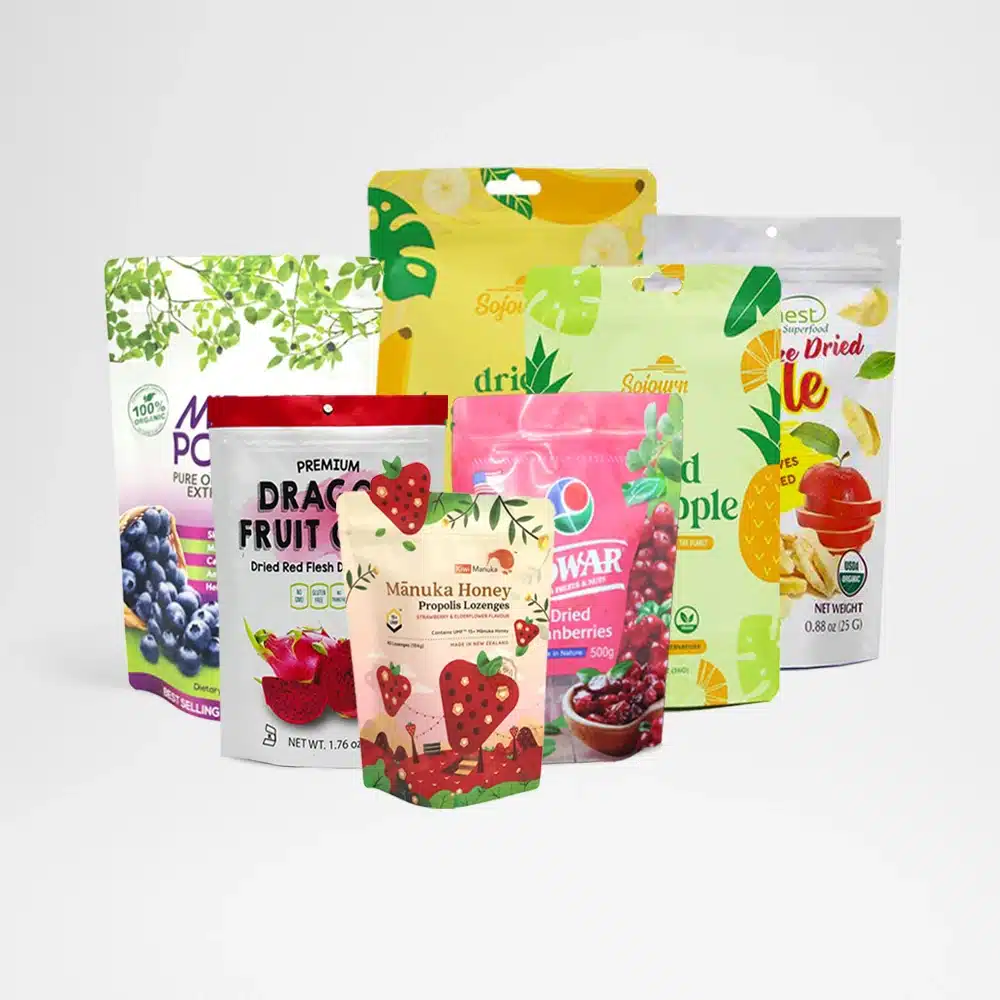 2. The Rise of Dry Fruits in Modern Diets
Dry fruits are gaining traction as healthy snack alternatives. Their nutritional benefits combined with convenience make them a hit, especially when packaged in easy-to-use pouches.
3. Benefits of Using a Dry Fruit Pouch
Dry Fruit Pouches offer numerous advantages like extended shelf life, easy portability, and efficient use of storage space. They also contribute to maintaining the freshness and nutritional value of the dry fruits.
4. Features to Look For
Look for pouches that have sealable zippers, tear notches, and maybe even a clear window to see the product inside. These features make the pouches user-friendly and efficient.
5. Material Matters
Choosing the right material for your Dry Fruit Pouch is crucial for maintaining quality. Common materials include high-density polyethylene and aluminum foil. Visit our snack bags section for more information.
6. Customization: Make It Yours
From unique logos to eye-catching designs, customization adds a personal touch. You can customize your pouches to align with your brand's identity and values.
7. How to Seal and Store
Proper sealing techniques ensure the dry fruits stay fresh longer. Heat sealing is often the preferred method for its effectiveness.
8. Tips for Retailers
For retailers, the appearance and functionality of the Dry Fruit Pouch can make a significant difference in sales. Ensuring that the pouches are easy to stack and display can draw more customer attention.
9. Ideal Situations for Using Dry Fruit Pouches
Whether you're hiking, traveling, or just need a snack at work, a Dry Fruit Pouch is the ideal go-to. Its portability and convenience make it versatile for various occasions.
10. Environmental Considerations
Sustainability is an increasing concern for consumers. Opt for biodegradable or recyclable materials when possible, aligning your brand with eco-friendly practices.
11. Consumer Preferences
Understanding your target audience's preferences in terms of pouch size, material, and design can significantly enhance customer satisfaction.
12. Health and Safety Guidelines
Compliance with food safety regulations is crucial. Make sure your Dry Fruit Pouches are FDA-approved and adhere to local and international health standards.
13. Frequently Asked Questions
Q1: Can I reuse a Dry Fruit Pouch?
A: Depending on the material, some pouches are reusable.
Q2: Are these pouches child-safe?
A: Always check for child-safe features if this is a concern for your target market.
Q3: How many types of materials are there?
A: Materials vary; consult our snack bags section for more info.
Q4: Are there any bulk discounts?
A: For bulk queries, reach out to sales@yltpacking.com.
Q5: Is customization expensive?
A: Costs can vary, but customization often yields long-term brand benefits.
Q6: How can I ensure freshness?
A: Choosing the right material and sealing method are key factors.
14. A Look at Market Trends
Customizable and sustainable options are gaining market share. Stay ahead by adopting the latest trends in Dry Fruit Pouch design and material.
15. Conclusion
Selecting the right Dry Fruit Pouch involves multiple aspects, from material and design to customer preferences and environmental impact. But the rewards—a satisfied customer and a successful product—are well worth the effort.