Navigating the regulatory landscape of coffee packaging is as crucial as selecting the finest coffee beans. In an industry where safety equals credibility, understanding and meeting compliance checks are vital. At YLTpacking, we take this journey seriously, ensuring that every Coffee Packaging solution not only meets but exceeds industry standards.
Understanding the Importance of Compliance in Coffee Packaging
Compliance is not a mere hurdle; it's a benchmark of quality and safety. For us, it's about delivering a product that aligns with global standards, safeguarding both the end-user and the environment.
Regulatory Bodies and Standards
We actively engage with regulatory bodies, keeping abreast of the latest standards that impact the coffee packaging industry, ensuring our clients are always ahead in compliance.
Material Safety in Coffee Packaging
The selection of materials in Coffee Packaging is a foundational aspect of compliance. We use materials that are not only robust and protective but also certified safe for food contact.
Non-Toxic Material Use
Our commitment to using non-toxic materials is unwavering. From inks to laminates, every component of our coffee bags complies with safety standards.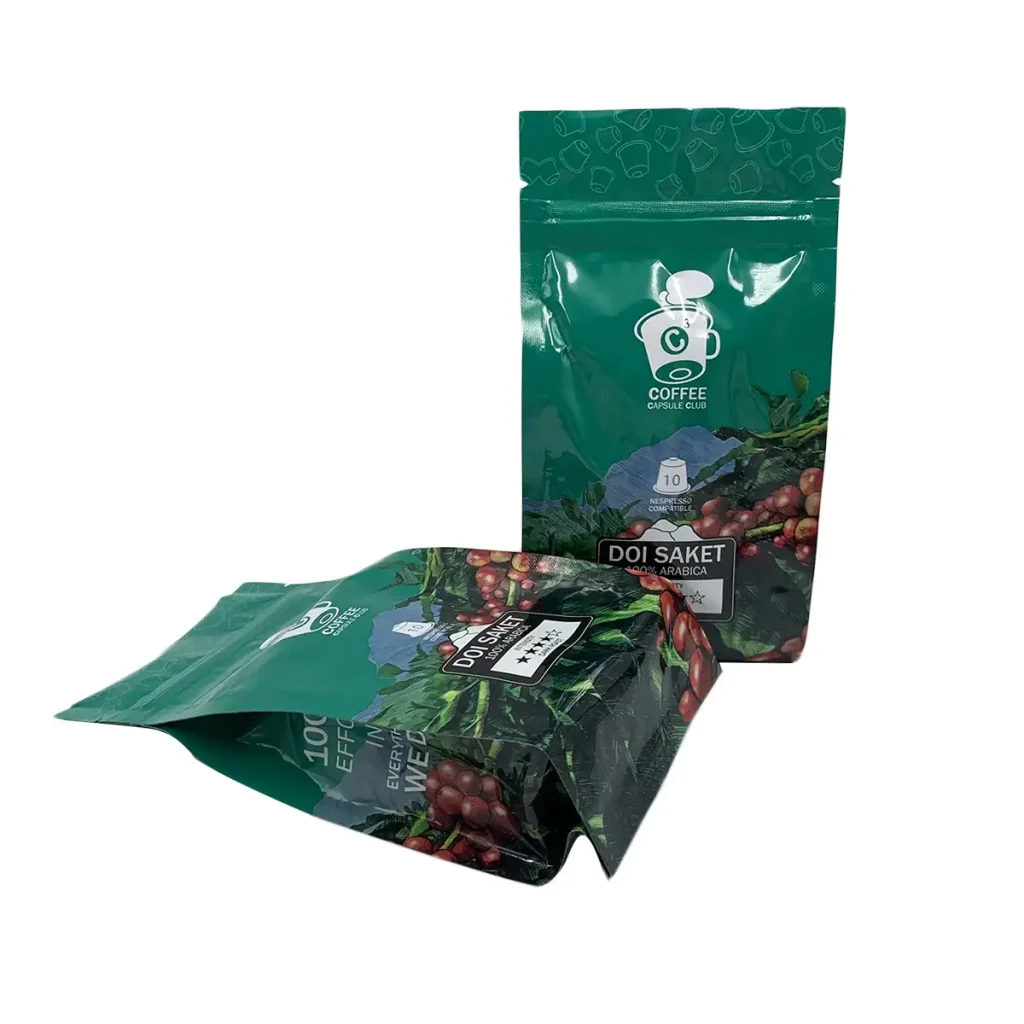 Barrier Protection and Compliance
Protective barriers are the silent guardians of coffee's freshness. Our multi-layer barriers comply with regulations to prevent contamination while preserving the coffee's aroma and taste.
Ensuring Long-Term Freshness
The barrier technologies we employ are designed to extend the shelf life of coffee products, adhering to compliance standards that dictate their effectiveness and safety.
Compliance in Printing and Labeling
Accurate labeling and the use of compliant inks in printing are critical for informative and safe packaging. We ensure that our labeling processes meet all regulatory requirements for food packaging.
Informative and Safe Packaging
The information on our Coffee Packaging is not only clear and precise but printed with food-grade inks to ensure consumer safety.
Traceability and Quality Control
We employ a rigorous traceability system that allows us to track our coffee packaging through every step of the supply chain, ensuring compliance at every stage.
Quality Control Systems
Our quality control systems are designed to monitor compliance continually, with checks and balances that ensure every coffee bag we produce meets stringent regulatory standards.
The Role of Certifications in Coffee Packaging
Certifications are not just accolades; they are reflections of our dedication to compliance and safety in coffee packaging.
Certifications We Hold
We are proud to hold several certifications that speak to our commitment to compliance, including ISO, BRC, and FDA approvals.
Sustainable Practices and Compliance
Sustainability and compliance go hand-in-hand. We ensure that our sustainable practices in coffee packaging also adhere to environmental regulations.
A Greener Future
Our eco-friendly Coffee Packaging options are not only better for the planet but also meet the compliance standards for sustainability in packaging.
Compliance as a Shared Responsibility
We view compliance as a partnership with our clients. When you choose YLTpacking, you're selecting a coffee packaging provider that views your compliance obligations as our own.
Your Partner in Compliance
Working with us means that your coffee packaging will be compliant with current regulations, giving you peace of mind and a competitive edge.
Continuous Improvement in Compliance
The regulatory landscape is ever-changing, and so are we. We are committed to continuous improvement in compliance to serve you better.
Staying Ahead of the Curve
Our team is dedicated to staying ahead of regulatory changes, ensuring that our Coffee Packaging remains a benchmark for compliance in the industry.
Conclusion: Ensuring Compliance in Every Bag
Compliance in coffee packaging is an essential aspect of the industry that cannot be overlooked. By partnering with YLTpacking, you ensure that your coffee packaging is not just an enclosure but a promise of quality, safety, and environmental stewardship.
For more information on our compliant coffee packaging solutions, visit our product page and let us help you meet and exceed industry standards.